The Taft Commission
On March 16, 1900, United States President William McKinley appointed the then Judge William Howard Taft to head the second Philippine Commission, which would also be known as the Taft Commission. Taft would become Governor-General of the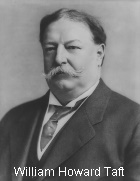 Philippines and later, the president of the U.S.
McKinley wanted to hasten the transition of the Philippine military government into a civil one. The Taft Commissions was given executive and legislative powers it could use to achieve the Presidentís objective.
The Commission arrives in the Philippines on June 3, 1900. It began legislative work on September 1, the first law it passed set aside P2 million for the construction of treads and bridges. From September 1900 to August 1902, the Commission was able to enact 440 pieces of legislation for the Philippines. Some of these laws included the Municipal and Provincial codes, which established municipal and provincial governments all over the country, and laws organizing the Philippine Constabulary and the countries judicial system. Aside from enacting laws the commissions also visited various provinces and help it in the government peace efforts.
The Spooner Amendment
The modification sponsored by Senator John C. Spooner, allowed the US president to fully administer the Philippines. Thus, the military government of the Philippines was replaced with a civil one albeit temporary pending the legislation of permanent colonial government by the United States.
Civil Government under Taft
The Philippine civil government was inaugurated on July 4, 1901, with William Howard Taft as its first governor, the powers and duties of a governor were passed on to Taft. The Taft Commission continuing functioning as legislative body. Cayetano Arellano was the first Filipino to hold a high position of government he was named Chief Justice of the Supreme Court on May 28, 1899. Gregorio Araneta was appointed as Secretary of Justice and finance. Trinidad Pardo de Tavera, Benito Legarda, and Jose Luzuriaga were selected as members of the Philippine Commissions. Continue to The Philippine Commonwealth.
Back to Philippine History - Home Page
---