Filipino-American Hostilities
Emilio Aguinaldo agreed to hold a peace conference between Filipino and American leaders. The conference lasted from January 9 to 29 in 1899. It ended without definite results, because the Americans were actually just biding time, waiting for more reinforcements to arrive from the US. Hostilities finally exploded between the Filipinos and Americans on February 4, 1899 in San Juan. An American soldier named Robert Grayson, saw 4 armed Filipino men on San Juan Del Mote Bridge and ordered them to stop, but they ignored him. This prompted Grayson to fire at the men, who immediately fired back. The following day MacArthur ordered his troops to openly engage the Filipinos in battle. The Filipino American War was on. From San Juan, American soldiers marched on to Pasig and nearby areas. In a matter of days, they were able to overrun Guadalupe, Pateros, Marikina, and Caloocan.
General Antonio Luna and his men showed great heroism when they attacked Manila on the night of February 24, 1899. They burned the living quarters of the Americans in Tondo and Binondo, and reached as far as Azarraga Street (now Claro M. Recto Avenue), where they met by formidable American troops. Luna was forced to retreat to Polo, Bulacan two days later. When American reinforcements arrived in the Philippines, General Elwell Otis immediately attacked the northern part of Manila, while General Henry Lawton went to the south. General Arthur MacArthu, Jr. marched to Malolos, which was then the capital of the Philippine Republic. Malolos was taken on March 31, 1899. By this time, however, Aguinaldo had already moved his headquarters to San Fernando, Pampanga. General Fredrick Funston crossed the Pampanga River in April 1899 and entered San Fernando. On May 5, the Americans had gained control of Pampanga. Fortunately, Aguinaldo was able to flee to San Isidro, Nueva Ecija.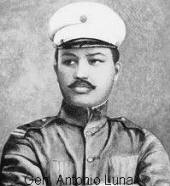 The death of Antonio Luna. A significant event that greatly weakened Aguinaldo's forces was the death of General Antonio Luna, acknowledged as the best and most brilliant military strategist of the Philippine Revolution. He was brave, intelligent, and well educated; but he also had a fiery temper, and was a strict disciplinarian. His harsh and rough manner earned him a lot of enemies, who latter plotted to kill him. In June 1899 Luna was at his command post in Bayambang, Pangasinan when he received a telegram allegedly sent by Aguinaldo. The telegram instructed him to proceed to Aguinaldo's headquarters in Cabanatuan, Nueva Ecija. On June 5, Luna arrived at the headquarters, a convent on the town plaza in Cabanatuan, but was told that Aguinaldo left for Tarlac. Angry, Luna went out of the convent and was met and killed by Captain Pedro Janolino with Kawit, Cavite troops. General Luna was buried at the nearby churchyard. Aguinaldo's role on his death is not clear and his killers were never charged or investigated.
Aguinaldo Flees. Philippine military strategies began to fail with the death of Antonio Luna. The generals started to disagree among themselves, and the Filipinos began losing battles. On November 13, 1899, General Emilio Aguinaldo fled to Calasiao, Pangasinan with his wife, son, mother sister, and some Cabinet members. The Americans followed in hot pursuit; but Aguinaldo still managed to elude them. However, he soon realized that being constantly on the run put the women in his group at great disadvantage. So, on December 25, 1899, he surrendered them to the American Aguinaldo then continued his march from Pangasinan to Palanan, Isabela. There he stayed for some time, since the place was mountainous and difficult to approach. Aguinaldo's loyal men guarded all roads leading to the area. Continue to the End of the Philippine Revolution.
Back to Philippine History - Home Page
---